Dark & Stormy Cardigan Tickets, Wichita | Eventbrite.
FULL PRICING & PAYMENT DETAILS BELOW
Class Dates:
Monday Evenings – 5:30-7pm
7 Sessions

7/13/15
7/27/15
8/10/15
8/24/15
9/7/15
9/21/15
10/5/15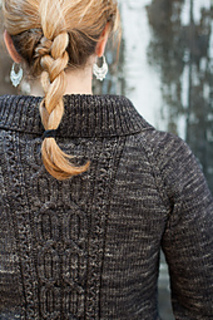 This design is an updated version of the shawl collared cardigans from the 1940s/50s worn by male movie stars or a favorite grandpa. Playing with a more modern take on the classic.
New and interesting cables, a fit that skims your curves and ends where your jeans start, and a gorgeous variegated yarn add a little twist to the original.
Homework to be done before class: 
Gauge swatch finished, matching gauge as required per knitting directions below.
Remember to change needle size until you match gauge given on pattern.
Please bring all required materials, including a printed copy of the pattern.
Yarn weight
W
orsted / 10 ply (9 wpi) ?
Yardage
1100 – 2100 yards (1006 – 1920 m)

Yardage by size:
32(34,36,38,40,42,44)(46,48,50,52,54,56)
1100(1200,1300,1350,1400,1500,1600)(1650,1700,1800, 1900,2000,2100) yds
Gauge
5 stitches and 7 rows = 1 inch in stockinette stitch, lightly blocked
Needle Size
US 7 – 4.5 mm
Payment Info
$85 non-refundable, make-up classes $10

While the Registration is 'Free', the cost of the class needs to be paid in full by the class start date.
It's important to me that my customers have choices in payment options. To offer you the most options I will have you pay in one of three ways:
cash, check, or Paypal accepted by clicking here;
send payment using Goods and Services to firebrunetteknits@gmail.com
Paypal accepts major credit cards, payment through bank account, and using existing Paypal balance.
You do not have to have a Paypal account to pay, there is a guest checkout feature.
Minimum number of 3 students required for class to take place. If less than 3 are registered 24 hours prior to event your class fee will be fully refunded to you either by cash, Paypal, or if you wish, class credit to be put towards another class or private lessons at Firebrunette Knits.
Grab some friends & get knittin'!!